Vanessa is a girl who is well-known as a jolly girl at school.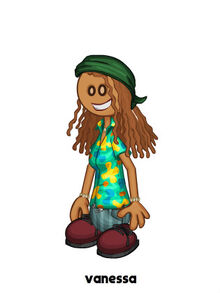 Appearance
Edit
Vanessa has medium skin and light-colored, curly hair. she wears a teal tropical shirt, light-colored jeans and maroon shoes with black laces. She accessorizes herself with necklace and bracelets made with shells and a green bandana.
Vanessa grew up with the sandy beaches, sea-fishes and the coconuts in the relaxing shore of Calypso Island. She became good friends with Chuck after they find several matching things in them, like tropical shirt and jewelries. She and penny likes to sit together and watch Alberto playing soccer when they are not busy blending some sundaes. She also likes to talk to Kahuna and all other people in the island. She can become friends with people very easily. This social girl is mostly popular for entertaining people in the beach with her all kinds of funny jokes. Kingsley hopes to make her a comedian like him and see her as popular as him in the future.
She has some similarities with Chuck and Mandi, the Wingeria chefs.