Roxy is a fan of Samurais, altough she lives in Frostfield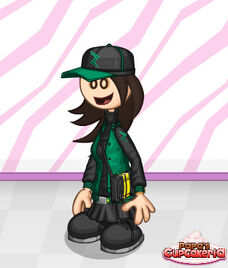 .
Appearance
Edit
Roxy have long black auburn hair, light colored skin and wears a Samurais hat. She always wear her Samurais jacket everywhere except for work. She have a Black bag with yellow stripes, containing a camera (to photograph when she sees a Samurais player), Samurai accesories, paper and pen(for autograph), and other Samurai themed stuffs. She wears a black shirt, black skirt and black shoes. She wears a green belt.
Roxy is a baseball fan girl. She always dream whenever she could be a Samurais player. However, many of her friends rejected her idea due to that she is a girl and she lives in Frostfield, not Sakura Bay. However, she barely ignores what her friends say, losing some of her friends, making her lonely. She usually befriends with Sakura Bay peoples. And usually, if make best friends, will rewarded by taking her to see a Samurais match. She works as server in Cupcakeria and, if whenever got a payment, she will buy a ticket for Griller Stadium match with Samurais in it, and in fact, she is a good friend with Willow, Peggy, Taylor and Pinch Hitwell.
See Roxy-Order for more info.
She is a fan of Samurais, making her is one of the sided baseball fans.
Her clothing is mostly black.
Her favorite holiday is Baseball Season (Cupcakeria) and Halloween.