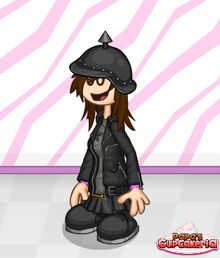 Rachel is a tough biker from Toastwood
Appearance
Edit
Rachel is mid-tone skin girl with messy dark brown hair. She also wears a grey tank top. She wears a biker helmet and jacket. She wears black skirt and shoes.
Rachel is the older sister of Baseball Girl Roxy. Altough lives in different town, they still have good relationship. She is a member of Tough Bike community, consisting she and her friends, including Rico. She usually will hang out ordering 'Tough Biker' food. Most peoples see her as tough biker, well actually she is a good going tough-looking girl.
See Rachel-order for more info.
Her favorite holiday is Starlight Jubilee (Cupcakeria), Chilifest (Pastaria), and Sky Ninja Returns (Donuteria).
She is the sister of Roxy.
Similar to her sister, her clothing are mostly black.