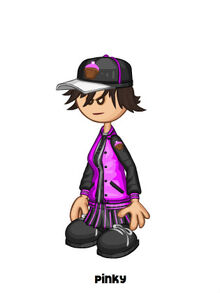 Pinky is a tough player of the Frostfield Batters. She is a closer.
Appearance
Edit
Pinky has fair skin and dark brown hair. She wears the Frostfield Batters uniform along with its jacket and cap.
Pinky was a shy and quiet girl in her childhood. For this, nobody could realize that her aim and strength is so great. Only one baseball match for girls on the street changed everyone's opinion about her. She was encouraged by her family to play for her team. Baseball slowly turned out to be her profession. But she is still that shy and quiet like she always was. The only change was that days passed and she started to become picky and cranky about everything. It is hard to see her happy. She likes to welcome people by frowning a them. Still she is everyone's favorite for being an outstanding player.
She is a strong girl, that is not revealed much for her quietness.
Her uniform has similarity with her name.