Grace is a woman who is Thomas' wife. She has quite a gorgeous look in her. She is an FC of Shaira Sultana.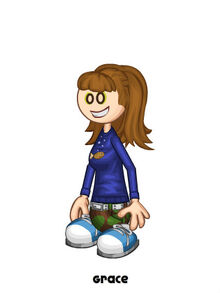 Appearance
Edit
Grace is a fair girl with big eyes who wears an indigo shirt with picture of a guppy on it, brown and green pants and blue and white shoes. She wears a white belt.
Grace was a shy girl during her school-life. She could not communicate with people for that and always remained quiet. Even after being so shy, she gets the opportunity to have a boyfriend when Thomas himself tried to talk to her. Soon they became friends and Grace started to become a bit confident. But none of their friends realized that this friendship will later turn into a diamond ring and a proposal to her from Thomas.
Now they have quite a happy life together with their son. Grace feels very good to see her son enjoying with his father. Grace still wonders how Thomas had no change in this long period of time. She finds the same kiddie, cool guy in him every moment she looks at him! Although she is happy about it, she often acts angry and asks, "Oh! When will you stop behaving like a kid? Is this an age for these things any more?"